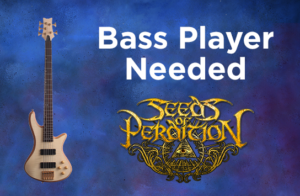 *BASS PLAYER NEEDED*
Seeds of Perdition is currently in need of a new Bassist to play Melodic Death Metal. We need someone with their own reliable gear and transportation, and who lives relatively close to the Philadelphia or Delaware County regions.
We have gigs coming up in the next few months are currently preparing material for a 3rd release and require someone who can contribute creatively.
Our stuff isn't too technical, but you're gonna need to have one badass picking-hand and love Rolling Rock… we drink a lot of it.
We practice every Thursday evening, 7pm-whenever, in Eddystone, PA. We have a studio space to store gear and play at.
Share this post to get the word out \m/
Email: curious-joe@live.com for more info